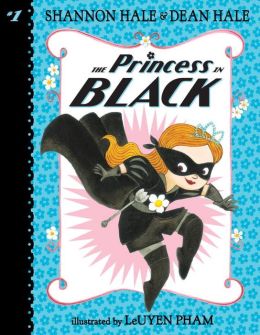 By Shannon Hale & Dean Hale, illustrated by LeUyen Phem.
"Princesses do not run. Princesses do not stuff frilly pink dresses into broom closets. Princesses do not wear black. And princesses most definitely do not slide down secret chutes and high-jump castle walls" but Princess Magnolia is not just any princess, she is the Princess in Black! With the help of her trusty pony, Frimplepants, Magnolia fights off the monsters that threaten the kingdom of Monster Land. Since fighting monsters is hardly proper behaviour for a princess, Magnolia must do it all undercover, making sure that Duchess Wigtower never finds out her secret. A proper super-hero-princess with a secret identity!
This is a great book written for children that are starting to read on their own. The words are large, the sentences are short, the vocabulary is simple, and the pages are covered with wonderfully coloured illustrations. This story bends gender bias by giving us a heroine who is out saving the world, dressed all in black like Zorro, while also enjoying pink dresses and tea time.